Image: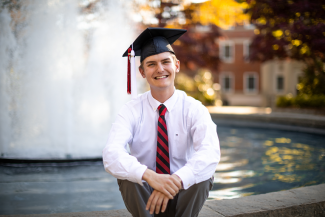 Comparative literature senior, Joshua Clifford, selected to be this year's commencement speaker
Joshua Clifford, a double major in Comparative Literature and Geography, has been selected to be this spring's commencement speaker.   A native of Kingsland, GA, Josh is pursuing a certificate in Geographic Information Systems (GIS) also. Obviously, he is not the type to sit on his hands for too long. Josh's many extracurricular activities during his four years at UGA include being a clarinet player and Drum Major of the Redcoat Marching Band, a Tour Leader at the UGA Visitors Center, and a Site Leader and Executive Board Member for IMPACT Service Breaks. IMPACT is UGA's alternative breaks program, sending hundred of students on service-learning trips all across the country during spring and winter break. Visiting places like Jackson, Mississippi and New Orleans, Louisiana, Josh has performed service related to Disability Awareness and Environmental Justice during his spring breaks as a UGA student. 
Following the recent announcement, Josh kindly answered a couple of questions put to him.
How has your time in the Comparative Literature Department been like?
"The Comparative Literature Department has given me an invaluable skillset and experience during my time here. Reading and writing have always been two great passions of mine, so being able to dedicate my coursework to literature and its global implications has been a dream. The faculty in this department have been a delight to be mentored by, teaching classes such as Literature and Medicine, Postcolonial Literature, Detective Fiction, and everything in between!"
Have you any advice for incoming freshmen?
"If you have an interest in any form of literature or global phenomenon, Comparative Literature has a class for you. During my time in this department I have be given the liberty to write papers and do research on what I am most interested in. This free range has allowed me to explore so many literary concepts I would not have been able to otherwise. This coursework has also blended incredibly well with my other major in Geography. The two together prepared me perfectly just last summer for my internship at the Library of Congress, where I helped create literary maps - I mean come on!" 
How do you feel about being this year's commencement speaker, and how did it come about?
"It is an absolute honor that I was chosen to deliver the commencement address at this spring's graduation ceremony. Anybody on campus could apply, and this included sending in a short blurb about why you wanted to speak at commencement as well as a rough draft of the speech you'd want to deliver if selected. After this initial application there was a callback round where I was invited to deliver my speech in front of an SGA committee. Shortly after, I found out that I was selected to be the student commencement speaker. To say I am grateful and honored to be given this opportunity would be a dramatic understatement." 
What are your plans for the summer and afterwards?
"After graduation I will be moving to Portland, Maine for an internship with ESRI, a GIS software company. While I am so very excited for this opportunity, I am not quite sure what my future holds for me after this summer. Despite this, I know that the education I have received in the Comparative Literature Department has prepared me with the critical thinking, analysis, and writing skills that will help me soar with whatever career I decide to pursue."