Image: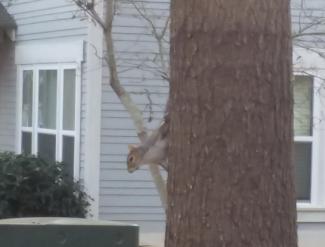 Original author: Hu Xudong
Translated by Willy Du
—To Ah Zi
Several days ago, like two idle supervisors,
we constantly monitor squirrels' collective labors on the side of the road:
Every morning, they'd the good weather take, grain by grain
from the trees to the earth below. In the evening,
with their paws, they'd the tranquility of the town break, and teeth it up the trees.
You'd imagine that the squirrels also delight
at the sight of two Chinese-like big squirrels
along the way, two invisible tails wagging side by side
on foreign ground, stir in midair, two Chinese ideograms
of "home," from front to back. It is true; in fact, it was they
who wait to watch us on the road. As if they planned it,
with every five meters, squirrels are seen crouching on the road's sides
carrying in their diminutive paws
a tiny piece of country America. They even listen and understand
what we talk about. When you were leaving, you said:
"Eat well!" On the grass' edge I saw
a squirrel approach me, acorn in paw
since you left, that invisible tail of mine
dragged listlessly, no longer able to stir "home" in midair
often able, when I'm outdoors,
see squirrels scurry on electric cables between maples
briskly, the electric ions in the wires they pass by
form a poem about missing you, then through
110 Volt pressure enter into my laptop.
"I chose this poem (a retranslation from Chinese poet/scholar/author Hu Xudong, who wrote this poem after seeing squirrels for the first time in this country) for the project because it reminds me that—despite all COVID-19 has done to and around us, forcing teaching assistants like my humble self to literally switch our gears from person-to-person instruction to performing classroom responsibilities online instead—there remain everyday pleasures, little things we sometimes take for granted (or ignore, such as observing animate creatures, "working" daily in our communities' open spaces). I don't mind sharing a poem that appeals to being carefree, especially if you don't consider yourself a squirrel-hunter. Whoever you are and whatever you're up to, our little friends can serve as a reminder that many a simple pleasure in life continue, including that of watching our small companions carrying on in the blissful ignorance they have enjoyed in the past, and still do right now.
Recently, squirrels have been good friends to me, as you can see, I've taken a liking to take shots of them with my camera (attached are two recent photos I've been sharing with friends)."