Image: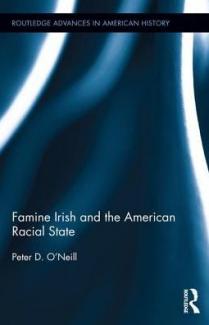 Dr. Peter O'Neill has earned an Honorable Mention for his 2017 book, Famine Irish and the American Racial State in the Donald Murphy Prize for Distinguished First Books competition organized by the American Conference for Irish Studies. " I am absolutely delighted to have earned this recognition" says Dr. O'Neill. "The Murphy Prize competition is one of the most prestigious awards in my field, and this year's crop of monographs was particularly strong. I am very grateful to the selection committee for this honor."
Murphy Prize Committee noted in their citation that:
"Peter O'Neill's Famine Irish and the American Racial State provides a transatlantic and comparative analysis of nineteenth-century methods of racialization. O'Neill focuses his study on the plight of the Famine Irish—a group recognized as "white" and thus as legal citizens of the United States, but not acknowledged culturally as members of the American nation. Drawing from an impressive range of literary, cultural, and archival sources, O'Neill persuasively argues that the structures of the American state, often working in tandem with the Catholic Church, provided the Irish with the means to achieve the ideal citizenship of both legal and cultural acceptance. He notes that while some Famine Irish resisted this offer, far more embraced the opportunity and, in doing so, played a pivotal role in the development of the American racial state. Famine Irish and the American Racial State is an ambitious book that deepens our understanding of the interplay between race, religion, and the nineteenth-century American state."
For more information of the ACIS prizewinners click here.
Information of Dr. O'Neill's book may be found here.
Famine Irish and the American Racial State 
Accounts of Irish racialization in the United States have tended to stress Irish difference. Famine Irish and the American Racial State takes a different stance. This interdisciplinary, transnational work uses an array of cultural artifacts, including…